If you are a Smule enthusiast looking for the ultimate microphone to perfect your app performance, look no further! With this blog post, we have scoured the market for the best microphones for Smule that will be sure to take your recordings up a notch.
Not only will you find the ideal product suited for any budget, but we'll also provide helpful tips and tricks to get better sound quality from each condenser microphone. So grab your coffee or tea of choice and prepare yourself to witness some vocal magic with our picks of top microphones tailored specifically for enhancing Smule performance!
Image credit:pixabay.com
Shure SM58
The Shure SM58 is a versatile, go-to external mic that stands out as one of Smule's best sound quality and reliability options. The SM58 has been used in all aspects of sound production since it was first introduced, from podcast recording to studio recording. It boasts excellent sound clarity with a robust mid-range presence that allows you to feel the music.
Additionally, it has incredible noise cancellation due to its dynamic mic design, eliminating background noise and ambient hums for more professional recordings. Its durability makes it suitable for any kind of environment or performance level, making it a perfect choice for Smule users who prioritize sound quality, stability, and versatility above all else.
Also Read: Who Invented the Karaoke Machine?
Shure MV51
For singers looking for the perfect sound, the Shure MV51 is a professional microphone to record on Smule. This sleek and dynamic mics design delivers crisp, clear sound without many setups or technical know-how. It has automatic audio tuning, so it'll immediately recognize what type of recording you're doing, whether it's spoken word or vocal performance.
The MV51 also features compatibility with android devices via USB port or Lightning cables and can be used in many other settings due to its professional-level sound quality. If you're looking for a reliable mic that will let you take your Smule performances to the next level, then the Shure MV51 is your ideal choice!
AKG P120
Recording high-quality sound, the AKG P120 is an excellent microphone for all Smule enthusiasts. It provides an ultra-convenient and clean audio output, making it simple to capture those vocal moments in clarity.
The microphone's design offers excellent durability for seamless recording, capturing the vocals and instruments clearly and accurately. Equipped with a professional look and feel coupled with advanced audio-capturing capabilities, the AKG P120 offers one of the best experiences for Smule karaoke fans looking to get their voices heard without compromising on quality.
Also Read: 12 Best 2000s Karaoke Songs
Rode NT1-A
You'll need the best mic for the job if you're a fan of singing on Smule. The Rode NT1-A microphone is perfect for recording your Smule covers. This mic boasts impeccable sound with its cardioid polar pattern and internal acoustic design. It also has a low self-noise rating of just 5dBA, which will capture every note you sing efficiently and accurately.
With its wide frequency range reaching up to 20 kHz and its ability to reject noise from surrounding sources, the Rode NT1-A microphone is one of the top mics for anyone looking to record their Smule covers. Give it a try today and see how well your singing sounds!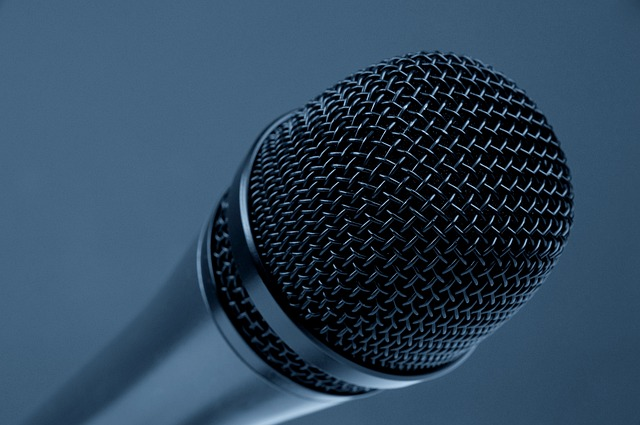 Image credit:pixabay.com
Sennheiser E835
If you're looking for a great all-around microphone with Smule, the Sennheiser E835 is a perfect choice. Its optimized frequency response provides a full range of sound and excellent feedback rejection, making it ideal for recording vocals or karaoke at home.
The integrated pop filter helps remove unwanted noise while providing excellent clarity and natural sound. And its rugged design ensures that you can use it reliably in any setting without worrying about wear and tear. With all these features in one package, the Sennheiser E835 has quickly become recognized as one of the best microphones for creating tracks with Smule.
Also Read: 12 Best Disney Karaoke Songs
Samson Go Mic
The Samson Go Mic is an excellent pick for those looking to make high-quality recordings on the popular singing app Smule. The Samson Go Mic is small and portable, making it great for traveling or quickly sending recordings. It provides a USB and an XLR output for compatibility with any audio interface you may need.
Its two condenser mics capsules deliver a fresh sound when recording vocals giving you clean and crisp audio quality. It also supports multi-person recording on multiple platforms, perfect for collaborations! Whether you are just having fun making music in your living room or creating professional recordings, the Samson Go Mic delivers a reliable, high-quality experience every time.
Irig Mic Studio Digital Studio Microphone
The iRig Mic Studio Digital Studio Microphone brings top-of-the-line studio condenser sound quality to an ultra-portable and affordable package. This condenser mic is an excellent choice for Smule users who need to capture high-quality audio on the go. Its pristine sound is perfect for acapella, singing, and even recording instrumentals.
The iRig Mic Studio comes complete with a shielded cable that helps reduce sharp humming noises when doing video and audio recordings. Additionally, the adjustable mic stand easily attaches to tables or stands, making it easy to find the perfect recording position. For anyone looking to up their Smule game, the iRig Mic Studio Digital Studio Microphone is an ideal choice.
Also Read: The Best Karaoke Songs For Sopranos
Audio-Technica ATR2500
The Audio-Technica ATR2500 is ideal for Smule users looking to record their singing with quality equipment. This cost-effective yet feature-rich microphone has excellent sound pickup and includes a headphone jack built right in. Connecting to your device is a breeze using the included XLR-to-USB cable that boosts phantom power.
Its cardioid polar pattern ensures that nothing but your vocals will be picked up during recording, providing clear audio playback. Additionally, its low weight and adjustable design make it ideal for minimal desk space and on-the-go use. With all this and more, the Audio-Technica ATR2500 is one of the best microphones for creating Smule videos.
Also Read: 12 Best Karaoke Songs For Baritones
Image credit:pixabay.com
Conclusion
The Best Microphones For Smule are those that have been specifically designed for use with the Smule singing app. There are many different types of microphones available on the market, but not all of them will work well with Smule.
If you're looking for a microphone that will give you the best possible results when using Smule, then check out our recommended products. We've tested and reviewed different microphones and compiled a list of our top picks to help you choose the right one for your needs.